6 minute read
Bubble Football: The Ultimate Leveller
With the next big collision only ever seconds away, Bubble Football offers a fun-filled thrill ride from start to finish. Discover everything you need to know, from costs to rules, in our handy Zorb Football guide.
The National Association of Bubble Soccer (NABS) was formed in the States in 2015 and helped grow the stature of Bubble Soccer throughout America.
The game has since made a swift journey across the pond, had its name suitably anglicised, and is now played up and down the UK.
What is Bubble Football?
The ingenious adaptation on the world's most loved sport sees a standard match flipped on its head (sometimes literally), as players enter into full-blooded collisions safe in the knowledge that their newly donned Body Zorbs will soak up the impact.
If you're more Phil Jones than Lionel Messi then bubble football might just be the game for you; skills and trickery go out the window and are replaced by a series of high-impact collisions as players scrap for possession.
It's not every day you can afford to charge hell for leather at another human being without risking a night in A&E, so enjoy it while you can.

Who Invented Bubble Football?
Bubble Football (or Zorb Football) was created in Norway by Henrik Elvestad and Johan Golden in 2011.
It first made an appearance on their comedy sports talkshow 'Golden Goal'. From there onwards, it was love at first sight! The game was spread to the UK by Lee Moseley, who self financed the new venture himself and it has now become a worldwide phenomenon.
The Game of Champions
If this (admittedly slightly cheesy) American video doesn't inspire you, nothing will!
If you're not already sold, Bubble Football offers genuine health benefits despite its slapstick image.
Playing a game of football is tiring enough. Now imagine playing the same game while encased by a giant bubble weighing up to 13 kilograms, that's one serious workout.
But don't let that put you off; NABS has done everyone a favour by scrapping the impractical 11-a-side format for shorter quarters and smaller sided games...phew!

So, Why Play Bubble Football?
Still a little skeptical about giving Zorb Football a go?
Here are 4 reasons why Bubble Football is completely awesome:

1. The Kick Off
Bubble Football starts a little differently to a conventional football match.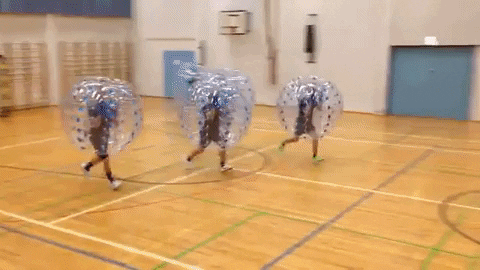 2. Big Hits
All we can do is thank God for that bubble!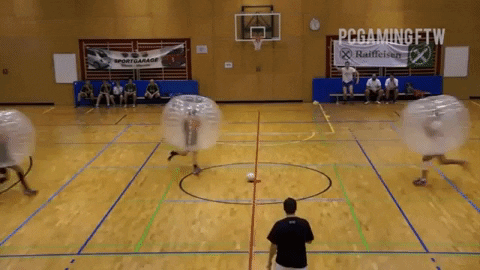 3. Passive Takedowns
"The supreme art of war is to subdue the enemy without fighting."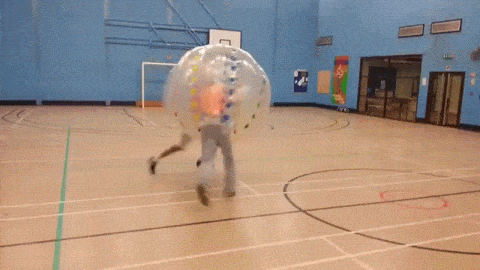 4. Immobilisation
When the bubble settles in an inverted position, players can become stuck with their legs flailing helplessly- a rare, yet extremely debilitating predicament.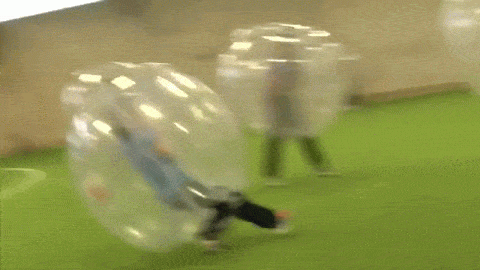 If you want to learn more about the intricacies and rules of the beautiful game of Bubble Football, the guys at The Stag Company give a pretty conclusive break down.
The rules can differ depending on where you play and who you play with, but it gives you a good idea to be getting on with!
Bubble Football FAQs
Still have some questions? Hopefully this short Q & A will help to provide some answers:
How does booking work?
Companies will offer a selection of different packages for you to chose from. Some companies will have a venue included, some will require you to book your own venue and will turn up with equipment and event coordinators- don't worry if there are no Bubble Football companies in your area, many companies will be happy to travel to a venue near you.
What equipment is provided?
More often than not, companies will provide the bubbles (obviously), goals, footballs and event coordinators.
How much does Bubble Football cost?
Again, costs vary between suppliers but prices tend to equate to around £20-30 per person.
How many people can play at one time?
Most companies provide 10 suits to cater for 5-a-side games. But others may have up to 16 suits to cater for 8-a-side matches.
Is it just Bubble Football or are other games available?
Other fun games such as British Bulldog or Bubble Sumo may also be available to play at your event. Check with individual suppliers on what games they offer.
What are the weight and height restrictions?
The standard size bubbles require you to be at least 5 foot tall and weigh no more than 22 stone, though some companies will cater for children.
Give It A Go!
Bubble football is a great option for any social occasion including stag or hen dos, birthday parties and corporate team events. So if you're a lover of action-packed, adrenaline-infused activity, or perhaps just fancy wiping your friends out, then this is the game for you!
Don't miss out! Find and book bubble football suppliers in your area using the quote request form below.
Bubble Football Hire
From stag do's to birthday parties, this deliriously fun game will make for a seriously epic occasion! Why not give it a go and book today?
Get A Quote
You might also be interested in...